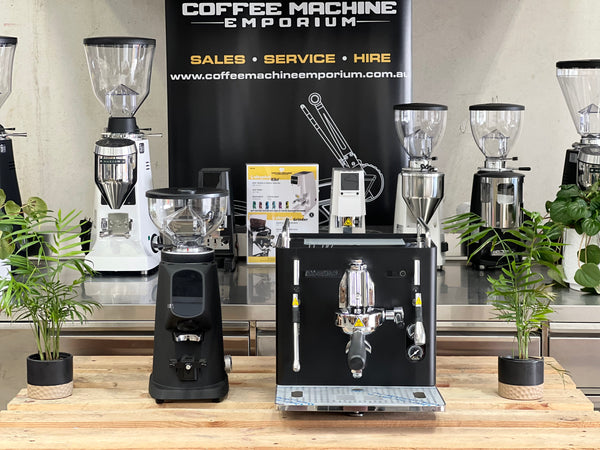 Sanremo Cube 1 Group Coffee Machine & AllGround Grinder Package 
* Rent me for as low as $66.00 PW *
Sanremo Cube 1 Group Coffee Machine
Not just a coffee machine, it's a lifestyle!
The all-new CUBE is Sanremo's most compact coffee machine to date. The revolutionary, semi-professional one group model ensures the highest quality coffee experience, cup after cup! With a stylish minimalistic design, fresh colour pallet and advanced technology, the Sanremo CUBE is the perfect choice for domestic use.
You can even control your machine from your phone with WiFi technology and the CUBE app! 
Features and Specifications:
 - 1.9L Boiler Capacity
- 1.8L Internal Water Tank
- Selectable Water Supply (Internal Tank or Plumbed into Main Line)
- Cool Touch Steam Wand
- Hot Water Tap
- High-Performance Volumetric Pump
- E61 Themosiphon Group with Mechanical Pre-Infusion
- Vibration Pump
- Boiler Power 1500W/230Vac – 1300W/120Vac
- Digital Display
- Energy Saving System
- Line/pump pressure gauge
- Boiler pressure gauge
- Removable drip tray with drain tube
- Stainless steel cup frame
- Adjustable legs
- Electronic diagnostic for fault decision
- Dimensions: 323mm (w) x 465mm (d) x 369mm (h)
- Weight: 26.5 kg
Internal Wi-Fi Module:
- Remote Machine On/Off
- Set-Up Boiler Temperature (for CUBE_R)
- Manage Water Tank Level
- Enable and Manage Water Filter Signaling
- Show Shot Time in Real-Time
- Statistics: Daily, Weekly and Monthly
Comes with a complete set of accessories for user experience
Machine comes brand new in a box with a 12 month parts warranty
The AllGround Grinder
Introducing the perfect companion to your CUBE! 
High-precision grinding for your home, cafe or office. Play with the revolving ring nut and design your perfect cup! Three grinding classes to choose from: Espresso, Filter or Moka
Endless daily combinations. 
Features & Specifications:
- Ring Nut Micrometric with Continuous Grinding Adjustment
- Adjustable Fork
- 64mm Burrs (Made with M340 Steel and Titanium Coating)
- Up to 1,400 kg of Coffee
- Adjust Dose in Seconds
- 250g Hopper Capacity 
- Recommended Consumption up to 1kg Per Day
- Weight: 9 kg
- Dimensions: 169mm (w) x 240mm (d) x 440mm (h)
- Power: 250 watts
Grinder comes brand new in a box with a 12 month parts warranty
Free shipping Australia wide (Metro areas only)
We also ship Internationally. Contact us for a quote
We have teamed up with Buddy Capital to provide you flexible rental options on new and used coffee machines and grinders. Buddy can tailor payment plans with no upfront costs and is 100% tax deductible. Contact us today to find out more!
As an authorised Specht component reseller, we're able to offer you the industry standard in premium component upgrades with off-the-shelf customisation options to make your design ideas a reality.
Our custom works deliver the all-important 'wow factor' with flawless finishes to ensure durability and added value. 
Coffee Machine Emporium is now fully integrated with After Pay and Zip Pay so you can shop all of our must-have accessories today and repay with interest-free, flexible repayments.
Stay on trend with Coffee Machine Emporium. Our showroom is located at 2a Burnett Street Somerton VIC, 3062
Feel free to call us anytime on 0432017976 or email at info@coffeemachineemporium.com.au